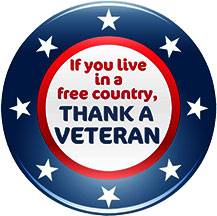 Happy Veteran's Day. Thank you for your service.
If you see a person in a uniform today;
Navy blue or Air Force green or, even, Army gray,
Khakis, whites, or camouflage, whichever one they wear -
Take the time to thank them for protecting us out there.
But let's not forget the vets at home who've paid the price
Or their families who've also had to sacrifice.
'though they're out of uniform they, too, deserve our thanks.
All of them have honored us by serving in our ranks.

Thanks especially to my Dad and family friend, Derek McCann
Oh, and by the way, this is how we actually say "Thank you" to American veterans.